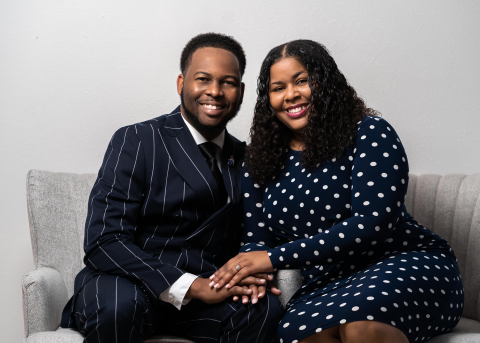 Pastor Jovan J. Whyte Hails from Kingston, Jamaica. He is a graduate of the Mico
University College where he earned a diploma in secondary education (with an
emphasis in Linguistics).
He then received the call for ministry and enrolled at Northern Caribbean
University where he graduated with a Bachelor of Arts in Religion and Theology.
Jovan Whyte is an ordained minister, master guide, pastoral counselor, songwriter, gospel recording artist and musician.
He also holds a Master of Arts Degree in Pastoral Counseling, with an emphasis
in Marriage and Family Counseling from Liberty University in Virginia.
Presently, he is doing a Ph.D In Organizational Leadership and Management at Liberty University in Virginia.
Pastor Whyte has esteemed himself as an international evangelist who has
preached in many evangelistic campaigns across Jamaica, the United States of America, Canada, Turks and Cacaos, Brazil and the Cayman Islands.
He is married to Dr. Kahilah Jones-Whyte, who is a Marriage and Family Therapist in the state of Florida. She is also a conflict resolution expert, Certified Supreme Court Family Mediator (Florida) and CEO/Founder of Platinum Life Counseling. They both share in the ministry of counseling and enjoy doing family and youth seminars together.

Pastor Whyte recently accepted a call to serve in the Allegheny East Conference
as the Senior Pastor for the Community Seventh-day Adventist church in Englewood, New Jersey.
His personal philosophy: Anything for JESUS; let me do!